Join us at an upcoming event
The Ramsey County OPUS Coalition works in collaboration with school districts, treatment providers, law enforcement, and other community leaders to build awareness of, and provide substance use education through skills-based training.
Check back often for upcoming virtual/ in person trainings. 
UPCOMING EVENTS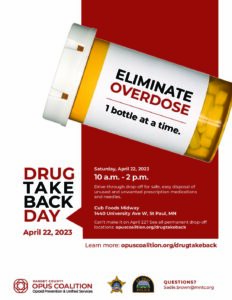 Drug Take Back Day
EVENT DETAILS
Date: April, 22nd, 2023
Time: 10:00 am to 2:00 pm
Cub Foods | St. Paul Midway 1440 University Ave W, St Paul, MN 55104
Safely dispose of unwanted, expired, and unused medicines for free. Safe disposal of unwanted medicine helps prevent crime, drug abuse, and accidental poisoning. Not flushing medicines down the drain or disposing of them in the trash helps protect our environment.
Drive-through drop-off for safe, and easy disposal of unused and unwanted prescription medications and needles.
Medicines from households are accepted in any form, including prescription, over-the-counter, vitamins, supplements, and pet medicines.
Examples
Blister packs.
Capsules and pills.
Creams and gels.
Epinephrine injections.
Inhalers.
IV bags.
Liquids.
Needles and syringes (filled with medicine and capped/sealed).
Patches.
Powders.
Sprays.
Vials.
Items NOT Accepted
No empty needles or syringes. Bring them to a Ramsey County household hazardous waste collection site.
No medicines from businesses, healthcare facilities, long-term care facilities, pharmacies, doctors' offices or veterinary clinics.
Community Education Events
These Events are designed to educate parents and community members on the latest substance use trends among teens and provide insight on evidence-informed approaches to supporting Generation Z. The coalition works with each individual community, school district or school to plan these events according to the specific needs or issues within that community.
Past Events:
| | |
| --- | --- |
| 4/24/2018 | White Bear Lake High School – South Campus |
| 4/25/2018 | Roseville High School |
| 11/1/2018 | Bethel University- Benson Great Hall |
| 5/9/2019 | Moundsview High School |
| 5/16/2019 | Irondale High School |
| 2/13/2020 | White Bear Lake Area- School- North Campus |
| 2/20/2020 | North St Paul High School Forum |
| 3/26/2020 | Webinar- Quora Education Center |
| 4/28/2021 | Supporting and Inspiring Students – 916 Teacher Training |
| 4/29/2021 | Supporting and Inspiring Students – 916 Community Event |
| 5/26/2021 | Understanding SUD & Resources for Support |
"We've always had problems with drug addiction," Ramsey County Attorney John Choi said, noting that more than half of prison and jail inmates are diagnosed with some sort of addiction.
Drug Take-Back Sites in Ramsey County
90% of people who abuse prescription medication get it from friends and family members. Don't let your medicine cabinet become yet another statistic. Safely dispose of prescription medications at one of the many drop sites in Ramsey County.